We were at a TA camp just outside of Bristol called 'Cribbs Causeway' and I was on the Tachar2 team which was a six wheeled Range Rover converted to a fire engine for use on runways where it could travel extremely fast in straight lines - unfortunately it was next to useless on normal roads because the centre of gravity was so high that whenever we went round roundabouts or sharp corners we had to slow right down to a crawl because there was a very real danger that the vehicle would tip over ... we had some hairy trips!
unfortunately I can't put many names to the people in the above photos, but thanks to Steve Palmer for identifying himself as the guy in the red jumper He was really tall (6' 7" I seem to remember) and he was a cook. I remember we used to go drinking in Bristol at a pub called The White Horse or The White Hart or something like that which was renowned as being the smallest pub in Bristol with the biggest landlord. I remember that you had to go down a wrought iron spiral staircase to get to the toilets - no mean feat when pissed. A couple of names I remember - Geoff Lancastle (a Sgt RAF Fireman I think), Jeffrey Smith (don't remember trade) and John (Herbie) Herbertson who was a Hercules pilot from Lyneham. I remember he took some of us for a jolly once when he had to clock up some flying hours in order to keep current.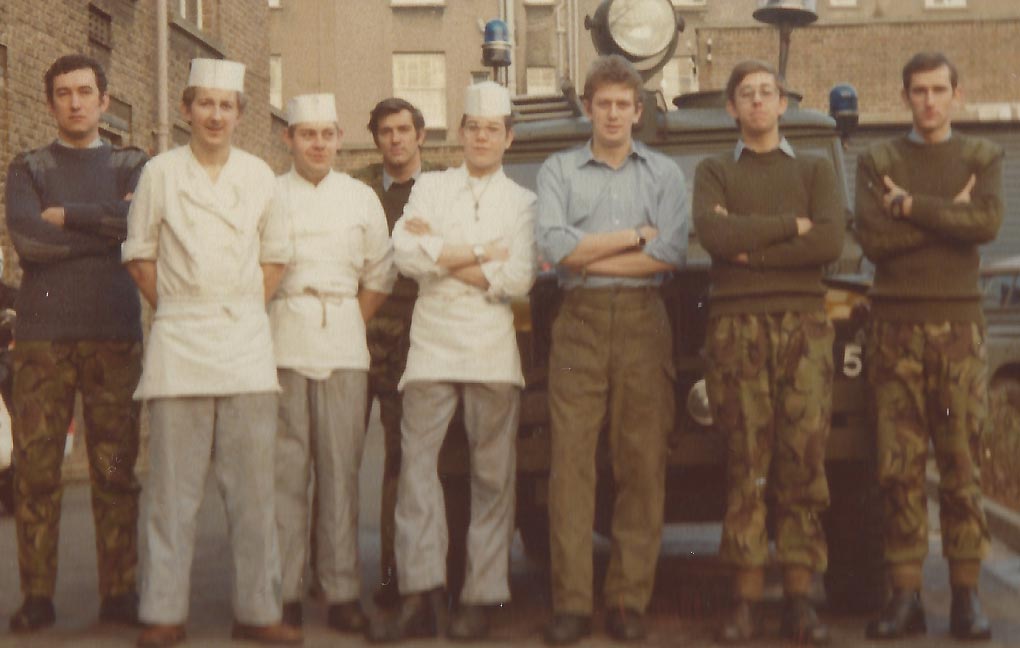 Richard Adams (second from the right) sent me the above picture of some of the guys from the Whiteladies Road TA Centre.
Richard Started off as a Green Goddess driver to replace someone who got injured and then the C/O kept him on to help in the office.
Flt Lt Fallon (Navigator Hercules at Lyneham) is far left, FgOff something-Voitier from a helicopter sqdn is on the far right